7 power words to include in your resume
8/5/2020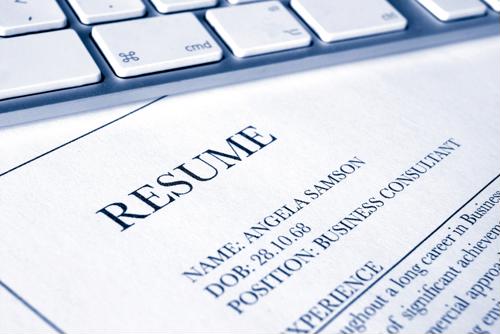 When you're writing your resume, you're effectively trying to describe yourself and your work experience in such a way that it gives you an edge on the competition. That means you have to stand out from a crowd of potentially dozens of rivals with similar qualifications and backgrounds. So what can you do?
The following "power words" may shake up the common language hiring managers see on most resumes and help you subtly highlight what makes you the ideal candidate:
1) "Introduced"
If you had an idea that helped a previous employer take a step forward, now's not the time to be modest - it's a good idea to take credit, according to Resume Genius. By saying you "introduced" an initiative or process, it highlights your qualities as a go-getter and someone whose initiative is an asset to their company. That's the kind of thing a prospective employer always likes to see.
2) "Oversaw"
When you say you simply "managed" a department or team, that may fall under the umbrella of "not descriptive enough," Resume Genius said. Instead, if you say you "oversaw" a team or project - and provide brief specifics - you're mixing up the verbiage and giving yourself more credibility as a leader who can get results.
3) "Modernized"
In just about every business, there are so-called legacy processes that have been in place for years or even decades, but just aren't as effective as they used to be, according to Glassdoor. When you can say you led the effort to get those processes up to the modern demands of your industry, that can be quite impressive, especially if you were also the one to first recognize the inefficiency.
4) "Spearheaded"
This word is akin to "led" but is a bit more active, and helps highlight the get-up-and-go attitude a potential employer is looking for, Glassdoor added. It shows you're on the cutting edge of your team's efforts and grabbing the reins in a way that mere "leaders" might not. Here, too, it helps to provide specifics about what your efforts resulted in.
5) "Advocated"
If you see a change that needs to be made, you may need to step up to the plate and really push for it to actually happen, according to the Corporate Finance Institute. Inertia is a real problem in business and if you can be passionate about getting the ball rolling on positive initiatives to help your company grow, that's a valuable quality.
6) "Closed"
To continue with the baseball analogies, every team needs an effective closer, the Corporate Finance Institute noted. If you were involved in sales or bringing in new clients, and you've had success in growing your business through those avenues, having hard numbers of how many sales you closed, what percentage that increased revenues and so on are all going to make you stand out.
7) "Grew"
Finally, if your efforts had a positive effect on previous employers, putting hard numbers to how much you improved the bottom line will make a hiring manager take notice, the Corporate Finance Institute advised. Your active role in growing your company's reach or sales numbers is something you should always strive to highlight.