6 things to remember when starting a remote job
8/3/2020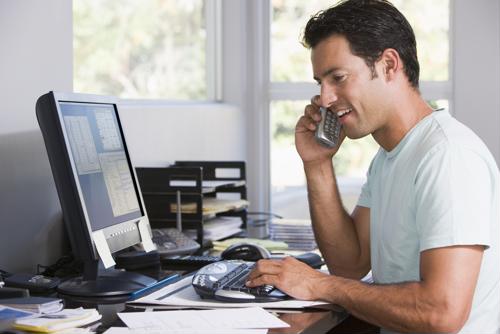 These days, a lot of jobs are remote and will likely stay that way for months or more, at minimum. So if you're starting a new job during that time, it's important to do what you can to hit the ground running and make sure you can be an effective employee despite the fact you're working from home.
How can you achieve that goal? The following tips should help, even if you're already used to working from home, because doing remote work for a job you've held for years is quite different from starting a new one in your home office:
1) Check in with your colleagues more often
First and foremost, when you're new but not actually in an office with your colleagues, it's a good idea to check in with them regularly to see if things are going well, according to Harvard Business Review. By soliciting such feedback, you get more attuned to what your teammates are looking for and also start to develop a better relationship with them. In addition, it's advisable to get yourself on the same page with everyone you deal with.
2) Take time to introduce yourself
In an office setting, your first few days might have a number of "get to know you" conversations around the water cooler, in the break room or before meetings, Harvard Business Review added. Instead, strive to reach out via chat, email or even video chat so everyone can get a better feel for your personality and learn more about you.
3) Be clear about everyone's expectations
This isn't necessarily your job, but it's important to double-check with your boss or coworkers about what your role entails and what they want you to do in the first few weeks or months, according to The Muse. That way, you can put together a to-do list and clear off those tasks as you complete them.
4) Get up to speed with lingo and communications
Every workplace on earth has its own series of abbreviations, slang words and specialized terms that you couldn't be expected to know as an outsider, The Muse said. In addition to trying to get yourself up to speed with the different software your new company uses, it's also wise to really study all the acronyms and lingo your coworkers throw around freely.
5) Set a schedule
Working from home isn't easy because there are seemingly endless distractions - kids want attention, dogs need walks, your TV and video games are right there, etc. - so you need to really buckle down, according to Top Resume. Figuring out the hours you're going to be totally focused on work each day is always a good idea, especially when you're starting out.
6) Remember to get up and move around
One of the big pitfalls of working from home is you can feel glued to your desk and be expected to respond to emails or text messages promptly, Top Resume advised. However, you should still make time to get up, walk around, stretch your legs and otherwise be active for a few minutes every hour.