5 things job candidates should ask in a phone interview
1/8/2020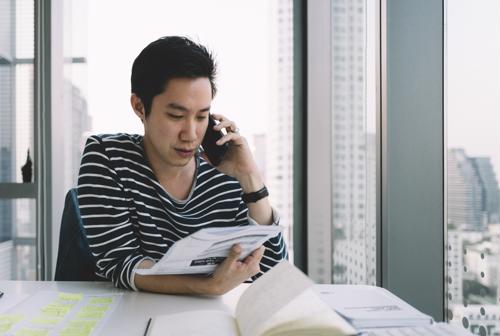 These days, a phone interview is often the first step to go from being a job candidate to a new hire, and it's important that you make the right impression with the hiring manager on the other end of the line. However, just as important as giving your potential employer a better idea of who you are and what you bring to the table, it's also a great opportunity for you to learn more about what you might be getting yourself into.
With that in mind, asking the following questions during your phone interview is a good idea:
1) "What would my day-to-day responsibilities be?"
While job descriptions posted online can often be somewhat vague about what a new hire would do in a given role, asking directly will likely get you a much clearer picture of what the employer would ask of you, according to The Balance Careers. Armed with this information, you could then steer the conversation that gives you a clearer understanding of just how you fit into the company's "big picture."
2) "How do managers at the company provide feedback?"
Just as critical to taking the job as what you would do for an employer is what kind of dealings you would have with your supervisor, especially around how you give each other feedback about your work, The Balance Careers noted. This will give you a clear idea of the kind of work environment and processes you'd be dealing with on a regular basis, and helps determine if the job is a good fit.
3) "What would success look like for this job?"
Along similar lines to receiving feedback, it's a good idea to get a better understanding of how your performance will be judged - and what you can do to make sure you're highly regarded by coworkers and supervisors, according to Indeed. When you have that information, it becomes easier to understand if your own preferred style of working will be a good combination with the company's broader culture.
4) "How much would I get the chance to grow and advance would I have?"
If you're like many professionals, you want to work your way up the corporate ladder and continually expand your collection of job skills and talents, Indeed added. With that in mind, it's vital to work for a company that will support you in those pursuits so you're able to become the best professional you can be. Getting a clear picture of exactly what that support will look like is a must.
5) "What do you, personally, like about working there?"
Asking your interviewer what they like about their jobs is an interesting way to turn the tables and get them to be a little more forthcoming, according to Glassdoor. They may be able to talk at length about what other people might like, but getting their personal perspective can really give you a picture of the day-to-day benefits (or drawbacks) of working at this firm.