5 tips to crush your next phone interview
5/21/2019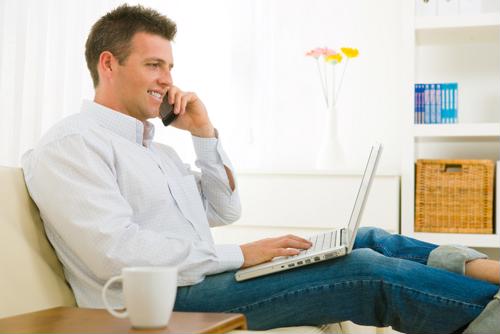 People who have been in the labor market for years or more likely know how to handle an in-person job interview with aplomb. But phone interviews are becoming part of the standard hiring process with greater frequency these days, and even experienced job seekers might not know how best to handle them.
With that in mind, here are five tips that help guarantee success in a phone interview, so you can go into a face-to-face meeting with confidence:
1) Study up
As with an in-person interview, it helps to do your research on the company beforehand, but a phone interview provides you with a crucial advantage, according to Forbes. You can print out some notes - or have them ready to go on your computer - and refer back to them, rather than having to memorize even basic information. You should also try to know a little about the person with whom interviewing, the position you want and so on.
It also helps to have a copy of your resume and cover letter handy for easy viewing.
2) Take the call in a comfortable spot
This doesn't mean lying on the couch, but it should be a place you're familiar with that's free of distractions and where you can avoid being stressed out, Forbes added. It's also a good idea to take such a call in a place where there won't be too much background noise. And just to ensure you're fully prepared, it's a good idea to sit down in this spot at least a few minutes before the call is scheduled to start.
3) Take notes
There may be things said during a phone interview that you want to address, so have a pen and paper handy to jot down anything that strikes you as being particularly important, according to The Balance Careers. You may be tempted to type things out, but the sound of clicking keyboards can be distracting, so it's better to go the old-fashioned route in this case.
4) Have water nearby
While you should generally try to avoid drinking anything during the call - and certainly not eating or chewing gum - it's vital to have a small glass of water close at hand, The Balance Careers cautioned. After all, if your throat starts to get dry or you have the need to cough, a quick, quiet sip will help you stay on track without disrupting the flow of the discussion too much.
5) Don't talk too fast
A phone interview is all about effectively communicating why you're the best candidate for the job, so taking your time to speak slowly and clearly about your qualifications is a must, according to The Muse. When people are nervous, they tend to talk more quickly and muddle their words, so making sure to take a calm, measured tone throughout the call is a must.
The overarching theme of the above tips is to take it slow and rely on preparation to carry you through a successful interview, so the work of knocking the call out of the park really starts hours or days before. The more you can do to get ready, the better off you're likely to be.