6 ways to improve your chances in a job interview
10/24/2019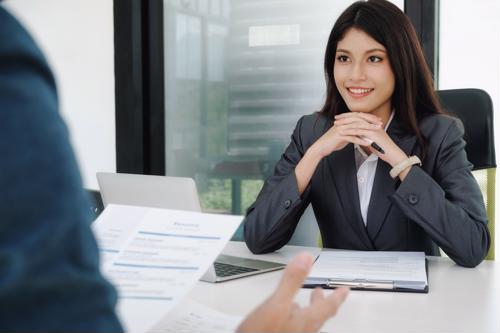 When you get to the stage of the job search process where you are invited in for a face-to-face interview, there's a lot to get just right. The obvious goal here is to really impress the hiring manager or other people you might meet, and it's not always easy to do so.
However, the following interview tips should help you truly stand out from a field of highly qualified candidates:
1) Present yourself as vital to your previous employers
Of course, in any job interview, you always want to paint yourself in the best possible light, but figuring out a way to tie your positives in with your current or previous employers' success, according to The Muse. If sales jumped 10% over a certain period, what role did you play in it? Or, if the bottom line improved, how did you help chart the right course? The more you can do to provide a tangible value, the more likely you are to impress an interviewer.
2) Talk about why you're the perfect fit
It's not enough to say why you were great in old jobs, though, The Muse said. You also need to show why you're the right candidate for this job as well. Tie in those previous experiences with what you can bring to the table in this new role and you will probably have an easier time getting the job.
3) Have the right body language
Being able to talk a good game is all well and good, but you need to project confidence in all other ways too, according to Monster. That means not only dressing well, but also having a firm handshake, making solid eye contact with your interviewers, smiling, sitting straight back in your chair with your feet planted firmly on the ground and so on. Any signs of potential nerves could derail your candidacy unfairly.
4) Don't over-talk
Part of that confidence you're trying to project is knowing when to dial it back and listen to what an interviewer wants to say, and being able to recognize when you've been talking for a while, Monster cautioned. It's great to be able to answer questions thoroughly or express complicated ideas, but knowing when you're rambling is a must.
5) Don't wait for them to start
Often, when you sit down in a job interview, you will sit back and wait for the interviewer to ask the first question, according to The Job Network. However, if you start the conversation - either with a pressing question or even just some small talk - you might come off as a little more assertive and impressive.
6) Make it a conversation
Indeed, if you're able to turn the tables a bit and change the structure of the interview itself from a Q&A where you just wait for questions to come to you, to one where you're just talking about the job, your experience and your potential employer, that can be a great idea, The Job Network added. Hiring managers are typically accustomed to conducting the same kinds of interviews over and over, so shaking things up will help you stand out.