5 ways to help ensure you make the right hire
10/2/2019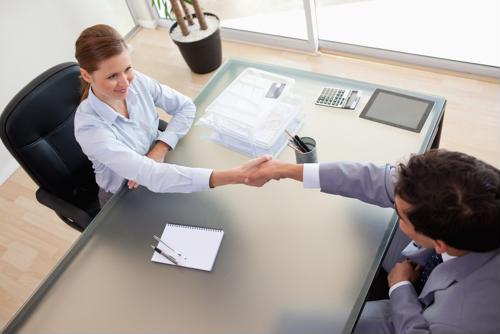 The problem for any business trying to fill an open job is it's hard to know who will be the best hire. While there's no way to ensure 100% perfect hiring practices, there are still plenty of ways you can improve your processes to help increase your hit rate is as high as possible.
The following tips should help you get more hires right:
1) Make sure they're committed to their chosen field
While many companies shy away from candidates who seem to change jobs a lot, experts actually say this may be a sign of a person who wants to advance in their field, rather than a candidate who's never happy with their work, according to hiring expert Steve Olenski, writing for Forbes. While you might be wary that you'd become another "stepping stone," as long as that person is staying within the lane of their professional development, you might instead find ways to keep them around by helping them move up your own corporate ladder.
2) Focus on the culture fit
When trying to figure out whether specific candidates will succeed within your business, you need to make sure they are going to be able to work well within your current processes, Olenski added. For instance, if your teams rely heavily on collaboration, a hire who says they prefer to work alone or without much direct oversight probably wouldn't be a good fit - and vice versa.
3) Look at your current processes
It's important to keep in mind that you're never going to have a perfect hiring process, but you should always strive to improve, according to The Balance Careers. With that in mind, you should carefully review every hire you've made in recent months and see if you can find areas for tinkering that could lead to better outcomes. Consider what went right when you hired a great employee, and what might need to be tweaked where you had a misfire.
4) Be more thorough with references
When you're trying to nail down exactly how good a hire might be, it can be wise to really hone in when it comes to talking to references, The Balance Careers added. While most references will be complimentary of the candidate, asking for areas where a potential hire struggled - and, potentially, later improved - could help illuminate whether they would be a good fit for your business.
5) Improve your interviews
In many cases, the questions you ask in an interview are going to be the ultimate determiner of who you hire, according to The Muse. Consequently, it's worth exploring whether you're asking the right questions in the first place, or asking them in the right way. For instance, some companies keep the conversation kind of free-flowing, while others simply ask a rigid set of questions in a more formalized interview format. While there's no right or wrong way, you might want to find a happy medium between the two.